Large Area Signal Boosters
Improve Cell Signal Inside Larger Buildings
We can help you get a better cellular signal inside your large building. Our signal repeater systems are made especially for large sized buildings. These include large homes, offices, warehouses, hangers even buildings with more than one floor. No matter the size of your building, we can help you design a cellular signal booster system for it.
Our Systems Help You
Reduce Dropped Calls
Stop Missing Incoming Calls
Stay In Touch & Productive
Increase 3G & 4G Internet Speeds
Cell Phones, Hotspots, MiFi, USB Modems
We carry powerful cellular signal repeater systems for large sized buildings. These signal boosters let you make cell calls where you couldn't before. We can improve the signal to certain spots (such as basements, deep interiors, data rooms, etc.) or the whole building. Use with cell phones plus 3G and 4G devices like HotSpots, MiFi Devices, Routers, and USB Adapters. These systems improve the cell signal to many devices all at the same time.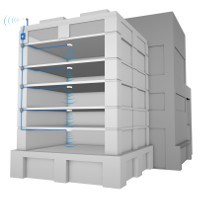 Large Buildings
Large Homes
Multi-Story Buildings
Offices & Warehouses
Bars & Restaurants
Buildings with Metal Roof Blocking Signal
Commercial Buildings
Wilson Pro Commercial Booster Systems
We offer the Wilson Pro line of commercial cellular signal repeater systems from Wilson Electronics. These systems are ideal for larger building installations including multi-story buildings. We offer expert help with designing a system for you project. Feel free to contact us for help and more information on the Wilson Pro line. More Wilson Pro Commercial Booster System Information.
Custom Signal Booster Systems
Need help? We can help you design the right signal booster system for your home, large warehouse, multi-floor building, apartment complex, or another large area? The right system depends on many factors. We can help you estimate improved cellular coverage. Read our Estimating Coverage Area page. It explains basic area calculations and required information. Then give us a call or use our Contact Form.
Popular Large Building Signal Booster Systems