Wilson AG Pro 70 4G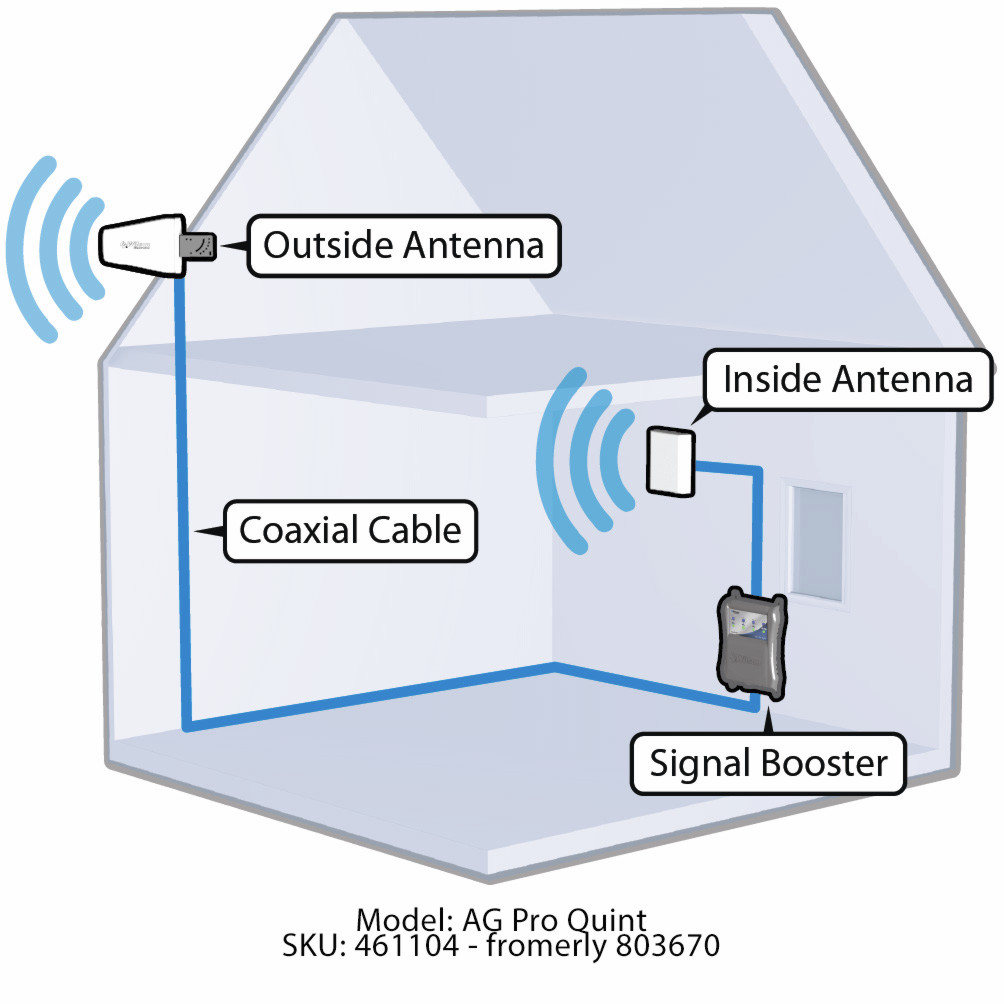 The Wilson Electronics AG Pro 70 has been replaced
by the Wilson Pro 70 PLUS.
Older AG Pro 70 Description
The Pro 70 indoor signal booster from Wilson Electronics is the first consumer signal booster to be FCC-certified to meet the March 2014 technical standards. The Quint boosts the cell signal to your phone, USB Data Cards, Hotspots / MiFi devices. It enhances 4G signals as well as older generation 2G and 3G signals for all the main U.S. cellular carriers' networks. This high-performance five-band signal booster supports 700MHz LTE and other mobile technologies to provide strong, reliable cellular coverage in indoor areas such as homes and offices.
The Wilson AG Pro 70 4G cell phone signal booster improves coverage for all the major cellular service providers in the U.S. & Canada.
This building signal booster system enhances cellular signal to cell phones, mobile data cards and HotSpots / MiFi devices. It provides 4G signal improvement for Verizon, T-Mobile, AT&T. The AG Pro Quint is capable of boosting Cellular 800MHz, PCS 1900MHz, AWS 1700/2100MHz as well as Verizon 4G LTE 700MHz and AT&T 4G 700MHz signal.
It is a five band, high performance indoor cellular signal booster for buildings including homes, offices, warehouses and others. With 70dB gain and maximum FCC-allowed uplink power, the AG Pro-Quint will amplify weak cellular signals and provide reliable voice and data coverage inside today's energy efficient – but cellular unfriendly - homes, office and commercial spaces.
Installer Friendly
The automatically adjusting gain control allows the installer to quickly and easily customize the gain level on each of the five frequency bands without the use of external attenuators. This allows greater flexibility in the placement of antennas, which simplifies the installation process. It supports multiple simultaneous connections and works with all cellular devices.
Benefits:
Boost Cell Signal in Medium to Large Buildings
Reduce Frustration - Reduce Dropped Calls & Missed Cell Calls
Get Better Phone Sound Quality & Longer Battery Life
Be More Productive - Get Faster 4G Internet Speeds
FEATURES
Easy DIY Installation
Boosts signal – including 4G – for all major U.S. cell carriers (except Clearwire®)
U.S.-based tech support & customer service
Maximum FCC-allowed output power
Specifications
Model Number

461104

Frequency

Band 17

700 MHz AT&T 4G LTE

Band 13

700 MHz Verizon 4G LTE

Band 5

850 MHz

Band 4

1700/2100 MHz T-Mobile

Band 2

1900 MHz

Band G

1900 MHz Sprint 4G

Max Gain

70 dB

Power Requirements

110-240 V AC, 50-60 Hz, 8 W

Connectors

N-Female

Dimensions

4.5 x 6.44 x 1.19 in. / 11.43 x 16.35 x 3.02 cm

Weight

2.53 lbs / 1.15 kg (Signal Booster Only)
Is This The Right System For You?

The AG Pro 70 system requires a moderate strength signal outside your building, at the point where you mount the outside antenna. The stronger that signal, the more coverage area you'll get inside your building. It amplifies 800MHz & 1900MHz cellular signal frequencies for voice calls and 2G & 3G Internet. These frequencies area used by almost all the main service providers in North America. It also boosts 4G Internet for AT&T (700MHz), Verizon (700MHz) and T-Mobile (1700/2100MHz). The system provides little or no coverage inside a building if the building is located in an area where the outside signal strength is very weak or non-existent. Outside signal strength and other factors including service provider frequency, cable length, antennas and amplifier contribute to the amount of coverage area inside a building. We can help you estimate improved cellular coverage area using our different cell phone repeaters inside a building with a few key pieces of information. Read our Estimating Coverage Area page, gather information then give us a call or use our online contact form.
Voice Phone Calls . 3G Data . 4G Data In One Building Signal Booster!
Wilson Electronics AG Pro 70 4G Installation Guide
Wilson AG PRO 4G System Replacement Parts & Components
We stock Wilson AG Pro 4G (Quint) replacement parts, system components, extensions and accessories. We list them below. If you can't find what you need or need expert advice, feel free to contact us by using our contact form, on this page, email or giving us a call.