AirLink Raven XT Antenna Boosters
How To Improve The Cellular Signal To The AirLink Raven XT Gateway
There are several different ways to improve cellular reception to your AirLink Raven XT gateway modem for faster Internet speeds. You can boost the reception of your device with an external antenna or powered signal booster. Adding an external to will improve cellular reception which will improve data transfer speeds. Adding a powered cellular signal booster will improve reception even more.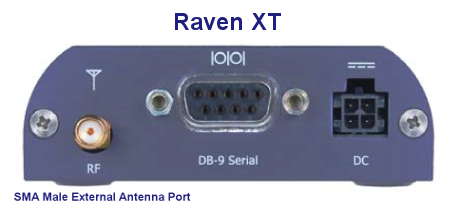 We offer several options to boosting AirLink Raven XT cell reception:
Add an External Antenna - directly connected to the router
Add an Power Booster With External Antenna
Use a Signal Booster Repeater System - Covers multiple devices over a larger area - Home, Office, Large Buildings.
The AirLink Raven XT has an antenna connector (SMA Female) on the rear of the unit. Attaching a cellular antenna to the the Raven XT requires an antenna cable ending in a SMA Male.
Attach External Antenna
To attach an external antenna to the router you'll need an antenna and cable going between the Raven and external antenna.
Mounting External Antenna
Ideally, you want to place the external antenna where the cellular signal from Verizon is best. It is usually better to mount the antenna outdoors if possible. Directional antennas should be permanently mounted pointing directly towards then nearest tower. An excellent antenna for 4G frequencies is the Wilson Wide Band Directional Antenna (below).
CABLE: When selecting cable, match up connectors to the router (SMA) and the antenna (FME or N Type). The use of the screw on adapters "SMA Male/FME Male Adapter 971119" or "SMA Male / N Female Adapter" see product listing below) may be required.
Adding An External Antenna & Power Booster
You can also add a cellular signal booster between the external antenna and the Raven for a stronger signal than antenna alone. Consider the WilsoPro Signal 3G for 3G signal areas or WilsonPro Signal 4G for both 3G and 4G areas.
Repeater Type Systems
Another solution to improving the signal strength is to use a cellular repeater type signal booster system. These systems take the available signal outside, amplify it, then rebroadcast the signal inside. These systems do not require a direct connection to your device. They also have the added value of being able to boost the signal to other devices in the area. We list it and several different options below.
About The Raven XT
Raven XT modems are designed to maintain a reliable, consistent network connection. With a serial interface and a vast library of machine protocols, the Raven XT is a workhorse for industrial and mission critical applications. Class I Division 2 certified as nonincendive equipment, the Raven Series is ideally suited for use in hazardous environments. Key applications include utilities, manufacturing, automation, oil and gas, SCADA, telemetry, Homeland Security and asset monitoring. Different version of the Raven XT for cellular service providers including AT&T, Bell, Sprint, Telus and Verizon.
Raven XT External Antenna & Signal Booster System Options