WilsonPro 1000/1000C/1050 With Inline Amp
WilsonPro 1000 Commercial Building Cellular Signal Improvement System
The WilsonPro 1000, 1000C and 1050 cellular amplifier systems offer significantly improved cellular voice and 3G/4G Internet coverage, inside large homes and commercial buildings where cellular signals may otherwise be blocked. The results are no more dropped calls or lost connections, faster uploads/downloads and a reliable, up to 32x stronger signal. The WilsonPro 1000 delivers maximum FCC-allowed downlink power to provide the largest possible indoor signal coverage.
Features
Large Coverage Area
Industry-best +15 dBm maximum downlink power
XDR technology: never shuts down, even with very strong outside cellular signals
Full color display, indicating gain and power levels of each band, for easy antenna setup
Compatible with all North America cell networks including 4G LTE
Integrated power supply
WilsonPro XDR Technology
The WilsonPro 1000 includes Wilson Electronics' state-of-the-art XDR (Extra Dynamic Range) technology that prevents signal overload conditions which can, in accordance with FCC regulations, force a booster to reduce power or even shut down.
When the WilsonPro 1000 senses that any incoming cell signal is too strong and threatens to overload the system, XDR automatically reduces signal gain to compensate for this overload condition while maintaining signal coverage throughout the building. In contrast, most competing signal boosters shut down when they reach a maximum incoming signal strength threshold, causing the indoor cell signal to drop out. Both antenna ports are located on the top of the booster unit for easy installation. Like all WilsonPro cellular amplifiers, the WilsonPro 1000 system is universal: it works for all cellular devices, all services including 4G LTE, and all US cell phone carriers.
WilsonPro 1050 - With Inline Amplifier
Combine For Longer Indoor Cable Runs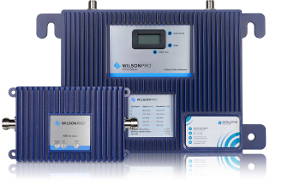 The Wilson Electronics' team of engineers designed the WilsonPro 1050 to address the issue of reduced system performance due to the loss of cell signal over unavoidable, long coax cable lines – a common issue in large buildings. The two-booster design, comprised of a main booster and inline booster, provides up to 32x stronger signal in offices and large buildings – ensuring maximum indoor coverage, faster download and upload speeds and no more dropped calls. The system's dual-booster design consists of four parts – two boosters and two antennas – that work together to provide exceptional mobile connectivity. Unlike most single booster designs, WilsonPro 1050 Main boosters and Inline Booster communicate with one another to mitigate signal loss, so those in the building can enjoy maximum indoor coverage.
WilsonPro 1000C - Cloud
The WilsonPro 1000C (Cloud Version) Includes WilsonPro Cloud Service Integration. Get Customizable email and text alert notifications,
including:
Amplifier goes offline
Oscillation occurs
Weak or no signal detected
Performance and signal level reporting and history
Report generation
Competitive Advantages
Highest Downlink Power: Up to +15dB more downlink power than the competition allows for stronger signal in environments where the incoming signal is weak. The benefit is a stronger signal sent to the inside antennas, providing larger coverage area from a single booster.
Highest Uplink Power: This allows for a stronger signal transmitted to the tower, up to +3dB more than the competition, providing greater
user capacity and increased range from the cell site.
Lower Overload and Shutdown Threshold: No matter how strong the outside signal, the WilsonPro 1050 system never shuts down. This is a huge benefit in strong signal environments like cities and locations close to a carrier tower.
Intelligent Control: WilsonPro cellular boosters automatically adjust signal gain while still providing even signal coverage throughout the building.
Sophisticated Software: Cellular signals are constantly fluctuating. The software is always monitoring signal levels and making immediate adjustments as needed, allowing the booster to operate at maximum gain consistently.
How The WilsonPro 1000, 1000C, 1050 Works
The 1000, the main booster, amplifies the cell signal and the 1050, the supplementary inline booster, restores any signal lost. An indoor antenna communicates with cellular devices inside the space and an outdoor antenna communicates with the cell tower. While the WilsonPro 1050 relies on the 1000 to function, the 1000 does work as a standalone booster. The WilsonPro 1000 and 1000/1050 are independently tested and carrier agnostic, providing coverage through every corner and level of large buildings for all U.S. and Canadian phone carriers, including 4G LTE enabled devices.