Verizon F256 Home Connect Boosters
How To Improve Cellular Signal For Verizon Wireless Home Phone Service - Home Phone Connect F256.
The Verizon Wireless Home Phone service lets you connect your home phones with your cellular service. This eliminates the need for a land line service to your home.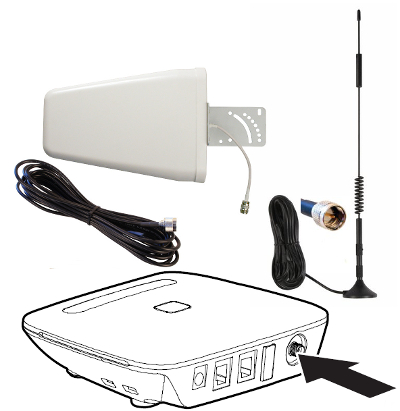 The service works great except when you have a weak cell signal inside your home. We have a couple of solutions to improve this cell signal to your Huawei F256 Home Phone Connect.

Home Phone Connect With F256 Device

If your Verizon Home Phone Connect service uses the F256VW device, boosting the cellular signal to it can mean fewer missed and dropped calls. Boost the cellular signal to your F256 with an external antenna or amplifier.

How Do I Connect the F256 to an External Antenna?

One option to improving the cell signal to the F256 is by attaching another antenna to it. Adding an external antenna and installing the antenna outdoors or near a window with a good cell signal and where the cellular signal is best, is a great way to improve the cell signal to the F256. The antenna that comes with the F256 is attached via a screw on SMA connector. In most cases, the standard antenna works fine. However, in cases where the Verizon cellular signal is weak, you can remove this antenna and attach another antenna with better gain and locate this antenna where the signal is better such as outdoors. You can also add an amplifier if the signal is very weak outside.

The F256 has an SMA Female connector. To connect an outside antenna to the F256, you will need a antenna cable with a SMA Male connector. We offer a couple of antenna, cable and amplifier options. In some cases a SMA adapter needed to attach is included but not always. Make sure you purchase cable, antenna or adapter that has an SMA Male connector.