Wilson Desktop DISCONTINUED Parts & Components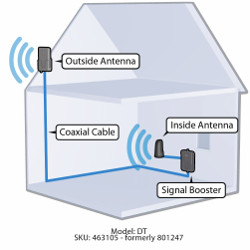 The Wilson Electronics (weBoost) DT Desktop Cellular Signal Booster improves coverage for subscribers of all U.S. cellular networks (except Clearwire). For specific information about frequency bands, click the specs for each system.
The DT is designed to amplify cellular signals for multiple rooms inside your home or office. The DT provides reliable voice and data coverage inside today's energy efficient but cellular unfriendly buildings.
The DT supports multiple simultaneous connections, and works with all cellular devices. Everything you need is in the box, so you can set it up yourself in minutes. As a result, you'll see significantly fewer dropped calls and lost connections; faster data downloads and a stronger, more reliable cell signal.
Features
Powerful
Short Range
Easy Install
Available 4G Version
Wilson DT Desktop 3G & 4G Parts & Components
We stock DT Desktop Signal Booster parts and components like inside antenans, outside antennas, coax extension cables and other accessories. We list them below. If you can't find what you need or need expert advice, feel free to contact us.