Huawei H226C Signal Boosters
Huawei H226C Antennas & Signal Boosters
The Huawei H226C Home Phone Connect gives you all the benefits of a wired land line connection, but it is more convenient and cost-efficient. It provides high-quality, clear voice service just like a land line, but on Verizon's Wireless network instead.
Home Phone Connect With Huawei H226C Device
If your Verizon Home Phone Connect service uses the Huawei H226C device, boosting the cellular signal to it can mean fewer missed and dropped calls. Boost the cellular signal to your H226Cwith an external antenna or amplifier.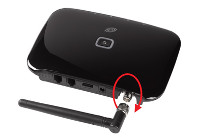 How Do I Connect?
The Huawei H226C has an antenna attached to it via a TNC connector. In most cases, the standard antenna works fine. However, in cases where the Verizon cellular signal is weak, you can boost the signal by adding an antenna that you can mount outside, where the signal is better. You can also add an amplifier if the signal is very weak outside.
The Huawei H226C has an TNC Female connector. To connect an outside antenna to the H226C, you will need a antenna cable with a TNC Male connector. We offer a couple of antenna, cable and amplifier options. In some cases a TNC adapter needed to attach is included.