Wilson Mobile Pro DISCONTINUED Parts & Components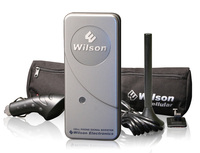 The Wilson (weBoost) MobilePro™ cellular signal booster improves coverage of all North American cellular networks (except WiMax & iDen). Your cellular device connects wire free. The MobilePro is a complete booster system package that detects available cellular signal, amplifies it then delivers the amplified signal inside your car, truck, RV, home or office. The MobilePro supports multiple simultaneous connections and is designed for ultimate portability. Use in vehicles and buildings. It can be powered by a USB port or vehicle power outlet as well as by an AC wall power outlet. The MobilePro will keep you in touch by reducing missed and dropped calls and boosting Internet speeds in poor cell signal locations. It allows users to make calls from dead spots where they were unable to connect before. Install Guide
Enjoy extended calling range, clearer voice reception and longer battery life.
Wilson Mobile Pro Parts & Components
We stock Wilson Mobile Professional Signal Booster replacement parts, components and upgrade options like antennas, extension cables and other accessories. If you can't find what you need or need expert advice, feel free to contact us.