AT&T ZTE MF279 Home Phone Antennas Boosters
Improve The Cellular Signal To Your AT&T / ZTE MF279 Wireless Home Phone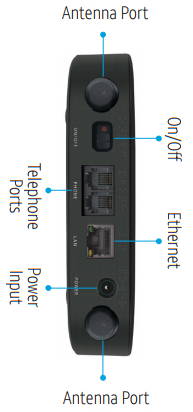 The AT&T MF279 Wireless Internet provides phone service and Internet access throughout your home.
If you have an issue getting a good cellular signal to the MF279, we can help. We offer several different options for boosting the cell signal to the MF279.
Attach An External Antenna
The MF279 has two antenna ports which are SMA Female connectors. You can connect an antenna with SMA Male connectors to one or both ports.
A good, inexpensive option to improving the signal to the MF279 is to attach an external antenna. To be most effective, the external antenna should be mounted where the cellular signal is best. This is usually near a window or outside wall - outdoors is almost always better.
The best antenna is the Wilson Wideband Directional antenna. This antenna should be mounted outdoors and pointed towards the nearest AT&T tower.
A small, more portable option would be one of the small omni directional antenna below.
Signal Boosters
An even better option would be using a signal amplifier. Listed below are some options.
Need Help?
Feel free to Contact Us if you have questions or need additional help.