AT&T Wireless WF721 Home Phone
Improve the Cell Signal To Your AT&T WF721 Home Phone For Fewer Dropped Calls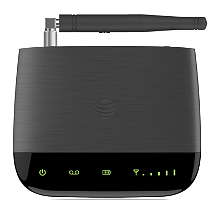 AT&T Wireless Home Phone uses the AT&T cellular network to provide phone service to your corded or cordless home phone(s). Place it anywhere in your house where you have a cell signal. If the cellular signal from AT&T is weak to your ZTE WF721 Home Phone, you can boost it by adding an external antenna to it. Below are several signal booster options for the WF721 Home Phone device.
External Antennas
You can boost the cellular signal to the WF721 by attaching an external antenna. Mount an external antenna outside the building where the signal is best. Directional Antennas will usually perform better than an Omni-Directional Antennas. Directional Antennas have more gain and the signal can be directed towards the nearest AT&T tower.
Powered Signal Boosters or External Antenna?
You can also boost the signal to the WF721 with a Building Signal Booster System. This option will also improve the signal for your other cellular devices such as mobile phones, Hotspots (MiFI Devices) and USB Adapters.
WF721 Antenna Connector
The WF721 has an antenna with an SMA Female connector. To connect an external antenna to it, remove the antenna that it comes with and connect an external antenna cable with SMA Male. When ordering an antenna or coax cable, make sure it has an SMA Male connector or use an adapter to convert it to an SMA Male.
External Antenna Options