Clear Hub Express Signal Boosters
Boo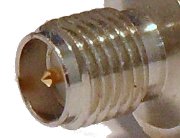 st your signal with a Clear Hub Express antenna. Attach an external Clear Hub Express antenna and get faster speeds.
If your CLEAR Hub Express is not getting a good signal from CLEAR towers, it's possible to improve your 4G signal and performance speed using an external antenna. We offer cable and an antenna that works on CLEAR 2.5GHz frequencies and cable. Attach the antenna via the RP-SMA Female connector that is located on the back of the Clear Hub Express. Once you have connected to an external antenna, flip the switch to "Enable" on the back of the device. To revert back to the internal antenna, flip the switch to "Disable".
SMA Connector
The Clear Hub Express has an RP-SMA Female connector on the back that enables you to connect an external antenna to it. You should confirm that this connector exists on your Clear device. Note the threads on the outside and pin in the middle.