WilsonPro 1050 Building Cellular Signal Booster Is Now FCC APPROVED!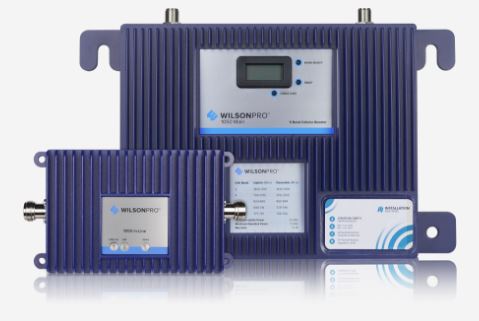 The WilsonPro 1050 large building cellular signal booster system comes with an "inline" amplifier to extend the cable lengths required in some large building installations.
The "inline" compensates for signal loss in cable runs up to 300 ft.
The WilsonPro Pro 1050 is the only passive distributed antenna system (DAS) with a unique dual-amplifier design to compensate for cell signal that is lost over long lengths of cable ensuring that businesses have strong cell service throughout their entire building at all times.
The WilsonPro 1050 is the first passive distributed antenna system that is FCC and carrier-approved "inline" amplifier solution.
Key Features
Power.
The Pro 1050 is WilsonPro's first two-part amplifier system. It consists of a "main" amplifier and "inline" amplifier. The "inline" amplifier is installed deep inside the building and compensates for long cable runs, up to 300 ft, to the inside antennas.
Reliability.
The Pro 1050's XDR technology, a Wilson exclusive feature, allows the amplifier to accept virtually any incoming signal strength without overloading & shutting down. This reduces the need for in-field adjustments and delivering higher unit up-time.
Best in Class Design.
Industry's first FCC & carrier-approved "inline" cellular amplifier system that also provides a self-optimizing design minimizing installation time.These include: single-side cable routing, LCD display, internal power supply and locking cable on the wall mount unit.
*Available in the USA Canada
More Information?
You can find more information on the WilsonPro 1050 Signal Booster & Amplifier on our website or feel free to Contact Us for more information.
Recent Posts
The New weBoost Drive Reach Overland The weBoost new Drive Reach Overland is the ideal booster fo …

Installing Your weBoost Signal Booster System Just Got Easier weBoost has released a new app to he …

Get A Signal Booster System - Installed At Your BusinessOffices . Retail Store …