Cellular Signal Boosters For Homes
It can be frustrating. You have multiple cellular devices including cell phones, iPhones, Smart Phones and maybe a Hot Spot or two. Outside your home, they all work great with blazing speeds and no interrupted calls. Then you go indoors and the signal bars drop. Your hotspot speeds fall to the old dial up speeds. And, you watch the mesmerizing spinning wheel on your Internet browser that shouts - "WAIT!". You miss calls, can't make calls and you drop the calls you can finally make. Frustrating...
Luckily, solutions that improve the cell signal inside your home are available. And, they are better than ever. They are also more cost effective.
What Is A Home Cell Phone Signal Booster?

A basic house or home signal booster system might consist of four parts:
Outdoor Antenna - Sends & Receives Signal To/From Cell Tower
Signal Booster (Sometimes Called a Repeater or Amplifier)
Indoor Antenna - Sends & Receives Signal To/From Cellular Devices - Phones, Hotspots, etc
Cable - Connecting Everything Together

The Indoor and Outdoor Antennas connect to the signal booster amplifier using coax cable. The Outdoor Antenna communicates with your cell service provider's tower. The Indoor Antenna does the same with your cellular phones or data devices like hotspots.
Basically, the booster takes the outside signal, amplifies it, then re broadcasts the signal indoors.
The amount of improved cellular coverage area that you will get indoors depends two things.
Outdoor Signal Strength
The Booster System Components - Amplifier, Antennas, Amount of Cable
To get good coverage from any system, you'll need at least a good, reliable 2-3 bars of signal, outdoors. You'll want to mount the outdoor antenna where the signal is the best. This is usually on top on or near the roof of a building. If you have less than 2-3 bars of signal outdoors, a systems coverage area will be significantly reduced.
Installing A Cell Phone Signal Booster In Your Home
So, just what is involved with installing a cellular signal booster system in a house?
Installation of today's signal booster systems is simple. It does require someone with basic "handy man" skills and familiarity with use of simple hand tools. The most difficult part is mounting the indoor and outdoor antennas and running cable from the amplifier to each antenna.
Installation Basics
Here is some basic information for installing a signal booster system. It will give you a general idea on what is involved with system installation. For more detailed information, see the Install Guide that comes with your system or use the Install Guide for the weBoost Home Complete to better understand the scope of the job.
Tools Required
Ladder
Drill (if routing cable through wall)
3¨ diameter pole - for mounting Outside Antenna (AM901117 Pole Mount available if needed)
Recommended: Power Strip with surge protection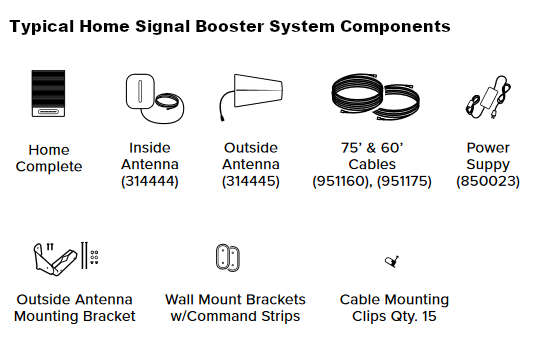 Basic Installation Steps
Place the Inside Antenna where you need the greatest signal boost and place Booster in your desired location at least 18" away from Inside Antenna.
Mount Outdoor Antenna & Point It Toward Nearest Cell Tower
Route & Connect Outside Antenna To Booster
Route & Connect Inside Antenna To Booster
Power Up The Booster & Optimize The System. Rotate the Outdoor Antenna in 1/4 turn increments. After each turn, unplug and reconnect the booster to power while observing the signal level on your cell phone from the Inside Antenna's projected area
What Is The Best Home Signal Booster System
The best home signal booster system for you will be dependent on:
Your budget
How large an indoor area you want improved cell service coverage.
For any size home, consider the weBoost Home Series Signal Booster Systems by Wilson Electronics
weBoost Home Signal Booster Series
All weBoost Home systems come in one package with everything you need to get more reliable and consistent voice and Internet 4G signals. As a bonus, you'll also get a longer talk times off of each battery charge than in weaker signal areas.
The weBoost Home series of cellular signal booster systems will greatly reduce, even eliminate your missed and dropped calls as well as your inability to make cell phone calls. They will also improve the cell signal to that hotspot in your home. This will give you more of the much promised blazing 4G speeds.
weBoost offers several booster systems that provide a variety of improved cell signal coverage area inside your house. They have systems for:
Small areas (Desktop - 1 room)
Several Rooms
Complete Home for Large Houses
weBoost systems are specially designed to be powerful and effective, low cost and easy to install. Each booster system can improve the cell signal for all US cellular service providers including AT&T, Verizon, T-Mobile, Sprint, US Cellular, MetroPCS and many others.
For Small Areas Inside Your Home
weBoost Home 4G Desktop

For small areas such as a home office, den, garage or living area, consider the weBoost Home 4G.
Features & Benefits
Desktop Antenna
Outdoor Panel Antenna
Improved Phone Call Quality with fewer dropped & missed calls
Faster 3G & 4G Internet Speeds
Easy and Fast Installation
Boosts signals for all US & Canadian service providers
More weBoost Home 4G Information
For Small Homes or Several Rooms Inside Your Home
weBoost Home MultiRoom

The weBoost Home MultiRoom cell signal booster boosts networks speeds across all available signal bands (including Band 25 for enhanced Sprint support) for up to three large rooms.
The Home MultiRoom also features an exclusive, Inside Antenna—featuring a built-in kickstand and stylish fabric cover while also providing best-in-class performance. Wall-mount installation is effortless with the included 3M® Command™
strips. The proprietary Outside Antenna offers a tool-free, finger-tightened precision mount. Users will experience faster data speeds, better voice quality, fewer dropped calls, and superior streaming capability. Home MultiRoom works with all US
carriers—including Verizon, AT&T, T-Mobile, Sprint, and more.
Features & Benefits
Stylish, MultiRoom - exclusive Inside Antenna.
Powerful, precision-mount Outside Antenna.
Enhances cell coverage for up to 3 large rooms.
Tool-free installation. No need to drill holes.
More weBoost Home MultiRoom Information
For Complete Home Coverage - Even Larger Homes
weBoost Home Complete
With its impressive power, the weBoost Home COMPLETE delivers reliable cellular connectivity for remote locations and large homes - up to 7,500 square feet.
The Home Complete is weBoost's most powerful, multi-user 4G cellular signal booster for residential use. It offers home owners the best-in-class performance within its price range.
With 72dB in max gain, the Home Complete provides the strongest cellular signal possible on all available network speeds. Homeowners & their guests can enjoy fewer dropped calls, better voice quality, uninterrupted texts, faster data speeds, better streaming and improved hotspot capability.
Key Features
Most Powerful weBoost Home System
Up to 12 dBm total down link-output power effectively produces up to 46% more coverage area than the Home MultiRoom
Brackets Allow Easy Wall Mount of Booster & Indoor Antennas
Outdoor Directional Antenna pulls in cell signal with increased gain.
Sleek, anodized and powder coated aluminum booster & stylish fabric-covered inside panel antenna fits contemporary home decor better.
More weBoost Home Complete Information

Need Help?
Feel free to Contact Us if you need help selecting the right signal booster system for your home. We would be happy to help.

weBoost Home Systems & Optional Components
Recent Posts
Installing Your weBoost Signal Booster System Just Got Easier weBoost has released a new app to he …

Get A Signal Booster System - Installed At Your BusinessOffices . Retail Store …

The New weBoost Office Cellular Signal Booster SystemsNew Amplifiers That Connect Employees And Cust …