WilsonPro IoT Signal 2-Band Booster w/4in Antenna [AC Power Supply] 460209
SKU:

AP460209

UPC:

811815025252

MPN:

460209

Condition:

New

Availability:

Out Of Stock - NO LONGER AVAILABLE

Short Description:

DirectConnect Signal Booster for USB Modems, Hotspots, Cellular Routers. Great for Vending Machines, ATMs, Vehicles, Remote Stations. Connect Directly To Your Cellular Modem or Router
Description
WilsonPro Direct Connect Signal Booster with 4-inch Antenna and AC Wall Outlet Power Supply. Great for Vending Machines, ATMs, etc. Part #470209 & 460209 (formerly Wilson 460109, 811225)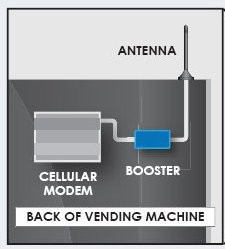 The WilsonPro 3G cellular amplifier with 4-inch external antenna was developed specifically for USB Modems, Cellular Modems, Hotspots and Cellular Router applications. The WilsonPro Signal 3G is based on the same field-tested, market-proven technology that powers Wilson cellular signal boosters for the consumer market. The WilsonPro 2-Band IoT Signal Booster is for use on 3G networks and is ready to integrate with cellular modems to provide reliable signal that ensures successful data transfer. This booster kit works with all US wireless service providers using 800Mhz & 1900MHz frequencies.
Power output (uplink)
28.9 dBm 800 MHz CDMA
31.8 dBm 1900 MHz CDMA
Connecting To Your Cellular Device

The Signal 4G comes with a 3-foot RG-174 cable with SMA Male connectors on each end. It will connect directly to devices with SMA Female connectors. We also have a variety of external antenna adapters to connect to other external antenna port types. Hotspot & Router Antenna Adapters, USB Modem Adapters, Cable Connector Adapters & Converters.
WARNING: Cancer and Reproductive Harm - www.P65Warnings.ca.gov
Benefits
Strong, reliable signal even in remote locations or other weak signal areas
Less re sending of data due to poor connection means faster, more reliable data transfers
This cellular signal amplifier was developed specifically for Machine to Machine (M2M) installations. This cellular amplifier direct connect configuration is based on the same field tested, market-proven technology that powers Wilson's Sleek in-vehicle cell phone signal booster for the consumer market.
The WilsonPro 2-Band 3G's small size makes it ideal for vending machines, remote monitoring stations, vehicles or other installations with little room. The Signal 3G can be paired with a variety of expertly designed Wilson Electronics cellular antennas for maximum system gain to overcome a weak signal. The Signal 3G is FCC certified to the latest technical standards for cell signal boosters.
Comes with:
WilsonPro 2-Band Amplifier
4" Magnetic Mount External Antenna with 10ft Cable & SMA Connector
AC/DC Wall Outlet Power Supply 859969
3ft RG-174 Cable with SMA Male connectors on each end.
Features:
Bi-directional signal booster amplifies signal to and from cell site
FCC certified
Configurable to fit virtually any M2M installation
Specifications
Connectors: SMA Female
Impedance: (input/output): 50 ohms
Dimensions: 3.3 x 1.9 x .8 inch (8.4 x 4.8 x 2.0 cm)
Frequency: 824-894 MHz / 1850-1990 MHz
Max Gain: 15 dB
Power output (uplink)
28.9 dBm 800 MHz CDMA
31.8 dBm 1900 MHz CDMA
Power Requirements: 5V DC, 1A
Includes 3ft RG-174 cable with SMA Male connectors for connecting to data device.
No Shipments or Use Outside the U.S.
Unfortunately All weBoost and WilsonPro Signal Booster Systems can only be shipped and used within the United States. weBoost or WilsonPro products certified by the U.S. Federal Communications Commission (FCC) are no longer recognized by Industry Canada (IC) to be certified for use in Canada and cannot be used or shipped to Canada. There are specific version of Canadian Approved (IC) than can be used. Please contact a weBoost or WilsonPro dealer in your country for these systems.
THIS IS A CONSUMER DEVICE.
BEFORE USE, you MUST REGISTER THIS DEVICE with your wireless provider and have your provider's consent. Most wireless providers consent to the use of signal boosters. Some providers may not consent to the use of this device on their network. If you are unsure, contact your provider. You MUST operate this device with approved antennas and cables as specified by the manufacturer. Antennas MUST be installed at least 20 cm (8 inches) from any person. You MUST cease operating this device immediately if requested by the FCC or a licensed wireless service provider.
WARNING.
E911 location information may not be provided or may be inaccurate for calls served by using this device. Please note, the four largest carriers, namely, AT&T, T-Mobile, Verizon and Sprint, and more than 90 regional carriers have given a blanket consent to all boosters meeting the new certification standards
View All
Close