Description
weBoost Drive Sleek Features:
• *NEW weBoost Affordable Voice & 4G, 3G Internet Mobile System
• Outside Antenna Has Adhesive Disk For Aluminum Vehicle Bodies
• Ideal Mobile Companion in Cars, Trucks, RVs, Boats
• Boost Signals For Cellular Calls, 3G & 4G Internet
• Easy & Quick Installation
• Works For AT&T, Verizon, T-Mobile, Sprint & Others
• Works For One Cellular Device - Cell Phone, Hotspot, MiFi, iPhone
weBoost Drive SLEEK Cell Phone Signal Booster System
The weBoost Drive Sleek is an affordable, easy to install, voice and 4G Internet mobile signal booster. It improves your cellular signal up to 32x enhancing 4G LTE and 3G signal for one or multiple service providers in the United States. When your cellular mobile device is placed in the convenient booster cradle, the Drive Sleek will amplify the cellular signal, providing more cell phone coverage for essential voice and Internet connections. The Drive Sleek keeps you in touch on the road and even boosts your 4G Internet for AT&T, Verizon, T-Mobile and others. A simple booster solution to maintain continuous communication for all cellular-enabled devices including, cell phones, iPhone, BlackBerry, smartphones, tablets, Hotspots, MiFi devices, cellular data USB cards, cellular routers, etc.
This FCC Certified booster comes with all components needed for installation in one package making DIY installation a breeze. Like all weBoost products, the Drive Sleek comes with a 2-year weBoost warranty.
Outside Vehicle Antenna
weBoost's newly designed outside antenna sticks to the roof with a super strong rare earth magnet. For non-magnetic roofs, an adhesive disk to secure the antenna is included in the Drive Sleek kit.
WARNING: Cancer and Reproductive Harm - www.P65Warnings.ca.gov
Service Providers Covered

The weboost Drive Sleek covers all carriers in the United States using 800MHz and 1900MHz for phone calls as well as 3G Internet. It also covers most 4G frequencies.
All Carriers In The US Using - 800MHz, 1900MHz, 3G Internet
AT&T 4G 700MHz LTE
Verizon 4G 700MHz LTE
T-Mobile 4G 700MHz LTE & 1700/2100MHz
Sprint 1900MHz G
Even Fits Larger Devices
The innovative cradle design can hold phones up to 7.5 inches long and as small as 5.1 inches. For context, Apple's popular iPhone 7 Plus (6.23 in.), and new iPhone 8 Plus (6.24 in.), as well as the Samsung Galaxy Note 8 (6.4 in.) would fit perfectly.
Drive Sleek Package Includes:
weBoost Drive Sleek Cradle
weBoost Drive Sleek Booster
Outside Mount Antenna, 6 ft Cable, Magnetic With Adhesive Disk
Magnetic Vent Clip
Cigarette Lighter Power Supply
Installation Guide
Power Supply: Included in the kit is a 5V / 2.1 Amp charging port. This port charges the device much faster than a standard 5V / 1 Amp output port.
How It Works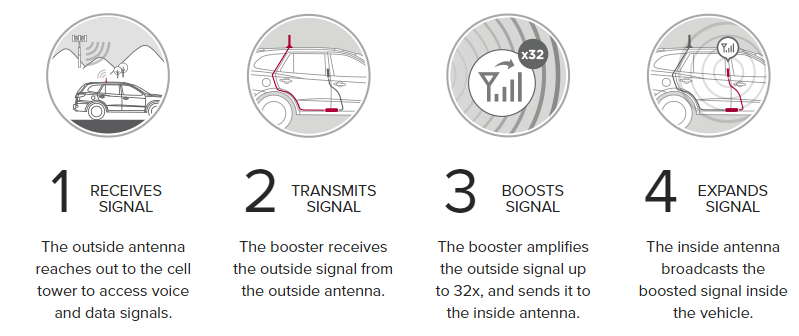 Reviews
The weBoost Drive Sleek it a pretty popular signal booster and you can find many positive reviews online. Here are some online reviews that are more detailed for the weBoost Drive Sleek.
weBoost Drive Sleek Review
Posted on May 10, 2018 by Kovas Palubinskas
https://midwestbasecamp.com/weboost-drive-sleek-review/
Install & Results Video From Full Size Adventures
First State Overland
Installation
Installing the Drive Sleek is fast & easy. If you're handy with a few hand tools, installation is easy. It involves mounting the outside antenna, running cable to the amplifier (usually mounted under the driver seat) then running cable from the amplifier to the inside antenna. Here is more information on Mobile Booster Installation Instructions with a Video.
Mount Drive Sleek Cradle Inside Vehicle
Install Outside Antenna on Vehicle Roof
Run Antenna Cable Inside Vehicle and Connect to Drive 4G-S
Connect Booster Power Supply and Plug Into Cigarette Lighter
A step-by-step installation guide and video will walk you through the process. The antennas communicate with both cellular devices and your service provider's cell tower for the strongest, most powerful signal possible.
weBoost brings you seamless, uninterrupted cellular connectivity in your home or workspace. Your cell phone is an essential part of your life. You depend on it to stay connected to everything important - family, friends, work.
weBoost Drive Sleek Installation Guide
Specifications
Model Number
470135, 470035, 460035, U470035
Frequency Bands
Band 12/17
700 MHz
Band 13
700 MHz
Band 5
850 MHz
Band 4
1700/2100 MHz
Band 2
1900 MHz
Frequencies
698-716 MHz, 729-756 MHz, 777-787 MHz,
824-894 MHz, 1850-1995 MHz,
1710-1755/2110-2155 MHz
Max Gain
23 dB
Impedance
50 Ohm
USB Port Power
5 V, 2.1 A
Power to Booster
12 V, 1.5 A
Connectors
SMB
Dimensions
.65 x 1.60 x 7 in
Weight
0.55 lbs / 0.88 oz
No Purchases Outside the U.S.
Unfortunately All weBoost and WilsonPro Signal Booster Systems can only be shipped and used within the United States. weBoost or WilsonPro products certified by the U.S. Federal Communications Commission (FCC) are no longer recognized by Industry Canada (IC) to be certified for use in Canada and cannot be used or shipped to Canada. There are specific version of Canadian Approved (IC) than can be used. Please contact a weBoost or WilsonPro dealer in your country for these systems.
This is a CONSUMER device.
BEFORE USE, you MUST REGISTER THIS DEVICE with your wireless provider and have your provider's consent. Most wireless providers consent to the use of signal boosters. Some providers may not consent to the utilization of this device on their network. If you are unsure, contact your provider. You MUST operate this device with approved antennas and cables as specified by the manufacturer. Antennas MUST be installed at least 20 cm (8 inches) from any person. You MUST cease operating this device immediately if requested by the FCC or a licensed wireless service provider.
WARNING. E911 location information may not be provided or may be inaccurate for calls served by using this device. Please note, the four largest carriers, namely, AT&T, T-Mobile, Verizon and Sprint, and more than 90 regional carriers have given a blanket consent to all boosters meeting the new certification standards.
WARNING. E911 location information may not be provided or may be inaccurate for calls served by using this device. Please note, the four largest carriers, namely, AT&T, T-Mobile, Verizon and Sprint, and more than 90 regional carriers have given a blanket consent to all boosters meeting the new certification standards
View All
Close
1 Review
Too far out - still no coverage.

Not good for my needs.
View All
Close