weBoost Drive Sleek OTR Mobile [Truck] Signal Booster System 470235
SKU:

AP470235

UPC:

811815028598

MPN:

470235

Condition:

New

Availability:

In Stock - Usually Ships Within 1-2 Days
Description
weBoost Drive SLEEK OTR Truck Cell Phone Signal Booster System
The Drive Sleek OTR is designed specifically for truckers, and it includes a single-phone cradle that uses coupling technology to improve 4G LTE and 3G cellular signals for semi-trucks. Also, it includes the new 4G-OTR Antenna Truck Edition.
The new 4G-OTR Antenna Truck Edition will accommodate multiple installation options! Truckers will now be able to experience exceptional call quality, faster data speeds for streaming media, and fewer lost connections while on the road.
Certified by the Federal Communications Commission (FCC), the Drive Sleek OTR is compatible with all mobile phones and wireless carriers in the US.
Antenna Cable Side Exit Adapter
This adapter allows the antenna to be used with standard citizen band (CB) antenna mounts. Trucks often have CB antenna mounting points built in, while fleet vehicles tend to add CB side mounts. The side exit adapter will allow the antenna to be mounted in either of these points. For trucks with caged mirrors or other similar setups, there is also the option to forego the side exit adapter and simply use the bottom cable exit.
Modularity: Different truck brands require different antenna installation locations, and the Drive Sleek OTR's modular design allows its antenna to be configured individually for each truck. With the provided antenna mast extensions, truckers are able to extend the antenna length as necessary in order to position the antenna above the cab of the vehicle and ensure maximum cell signal boost.
How it Works
The magic begins with the powerful exterior antenna, which reaches out to cell phone towers to receive a signal. The antenna then transmits this signal to the booster.
The booster receives this outside signal and amplifies each of the frequency bands it supports using a series of sophisticated low noise amplifiers and filters. The signal is then sent to the Drive Sleek OTR cradle, where the user can enjoy a stronger signal for faster data and clearer call quality. The cradle also receives outgoing signal from the cell phone and transmits a stronger signal back to the tower through the same process.
Comes with all components needed for installation in one package making DIY installation a breeze. Like all weBoost products, the Drive Sleek comes with a 2-year weBoost warranty.
Service Providers Covered

weBoost Drive Sleek OTR Features:
• For Voice & 4G, 3G Internet
• Includes Wilson OTR 4G Trucker Antenna
• Ideal Trucks, Semi's, RVs
• Easy & Quick Installation
• Works For AT&T, Verizon, T-Mobile, Sprint & Others
• Works For One Cellular Device - Cell Phone, Hotspot, MiFi, iPhone
The weBoost Drive Sleek covers all carriers in the US using 800MHz and 1900MHz for phone calls as well as 3G Internet. It also covers most 4G frequencies.
All Carriers in the US Using - 800MHz, 1900MHz, 3G Internet
AT&T 4G 700MHz LTE
Verizon 4G 700MHz LTE
T-Mobile 4G 700MHz LTE & 1700/2100MHz
Sprint 1900MHz G
WARNING: Cancer and Reproductive Harm - www.P65Warnings.ca.gov
Even Fits Larger Devices
The innovative cradle design can hold phones up to 7.5 inches long and as small as 5.1 inches. For context, Apple's popular iPhone 7 Plus (6.23 in.), and new iPhone 8 Plus (6.24 in.), as well as the Samsung Galaxy Note 8 (6.4 in.) would fit perfectly.
Drive Sleek Package Includes:
weBoost Drive Sleek Cradle
weBoost Drive Sleek Booster
Outside weBoost Over-The-Road (OTR) 4G Antenna
With 3-Way Mount, Spring Mount, Feed Thru Adapter, SMB Adapter
Adhesive Magnetic Dash Mount
Cigarette Lighter Power Supply - DC/DC 12V, 15 ft cable
Installation Guide
Power Supply: Included in the kit is a 5V / 2.1 Amp charging port. This port charges the device much faster than a standard 5V / 1 Amp output port.
How It Works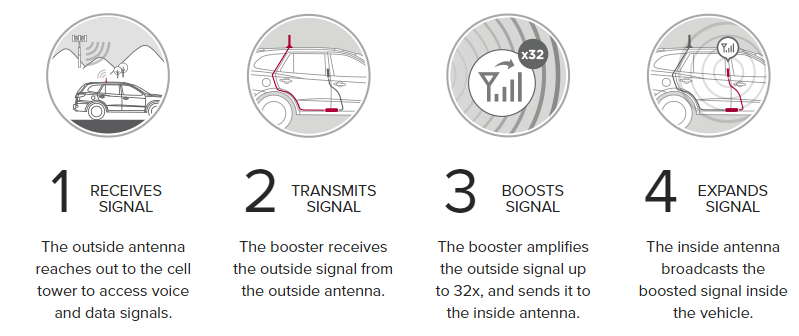 Why Buy weBoost?
They Invented Cell Signal Boosting Technology - Wilson Electonics (the parent company of weBoost) is the originator of cell signal boosting technology and has led the industry with hundreds of patents over the past 25 years.
Products Are Designed, Assembled and Supported in the USA - All weBoost products are designed, built, tested, shipped and supported from the USA. We employ skilled workers providing dozens of U.S. families with high-quality jobs.
Made of the Very Best Materials and Superior Quality Measures - Compare weBoost to our competitors. You'll quickly realize that our materials, design specifications and quality control far exceed anything in the industry.
Products Certified by the FCC & Authorized by Every Cellular Carrier - weBoost products work on any U.S. cellular carrier and are 4G/5G compatible. We also work closely with the FCC to ensure that every product is government certified.
Guaranteed Or Your Money Back - We're confident that weBoost products will meet or exceed your expectations. Which is why we offer a 30-day, money-back guarantee. If you're not satisfied, send it back.
Specifications
Model Number
AP470135, 470035, 460035
Frequency Bands
Band 12/17
700 MHz
Band 13
700 MHz
Band 5
850 MHz
Band 4
1700/2100 MHz
Band 2
1900 MHz
Frequencies
698-716 MHz, 729-756 MHz, 777-787 MHz,
824-894 MHz, 1850-1995 MHz,
1710-1755/2110-2155 MHz
Max Gain
23 dB
Impedance
50 Ohm
USB Port Power
5 V, 2.1 A
Power to Booster
12 V, 1.5 A
Connectors
SMB
Dimensions
.65 x 1.60 x 7 in

Weight

0.55 lbs / 0.88 oz
No Purchases Outside the U.S.
All weBoost and WilsonPro Signal Booster Systems can only be shipped and used within the United States. weBoost or WilsonPro products certified by the U.S. Federal Communications Commission (FCC) are no longer recognized by Industry Canada (IC) to be certified for use in Canada and cannot be used or shipped to Canada. There are specific versions of Canadian Approved (IC) than can be used.
*Please contact us information and quotes onr Candian approved signal booster system options.
BEFORE USE, you MUST REGISTER THIS DEVICE with your wireless provider and have your provider's consent. Most wireless providers consent to the use of signal boosters. Some providers may not consent to the utilization of this device on their network. If you are unsure, contact your provider. You MUST operate this device with approved antennas and cables as specified by the manufacturer. Antennas MUST be installed at least 20 cm (8 inches) from any person. You MUST cease operating this device immediately if requested by the FCC or a licensed wireless service provider.
WARNING. E911 location information may not be provided or may be inaccurate for calls served by using this device. Please note, the four largest carriers, namely, AT&T, T-Mobile, Verizon and Sprint, and more than 90 regional carriers have given blanket consent to all boosters meeting the new certification standards.
WARNING. E911 location information may not be provided or may be inaccurate for calls served by using this device. Please note, the four largest carriers, namely, AT&T, T-Mobile, Verizon and Sprint, and more than 90 regional carriers have given a blanket consent to all boosters meeting the new certification standards
View All
Close