The New weBoost Drive Reach Overland
The weBoost new Drive Reach Overland is the ideal booster for overland and off-road vehicles. The Drive Reach Overland features a versatile mounting bracket that provides flexibility in how the outside antenna attaches to vehicles. In addition, the outside antenna is completely adjustable, and can easily collapse for garage storage.
The Drive Reach Overland utilizes weBoost's most durable omnidirectional antenna to provide maximum connectivity for when off the beaten path. The Overland package contains everything you need for DIY installation–including
weBoost Drive Reach Booster
Rugged Outside Omni-Directional Antenna
13" Mast Extension
Inside Antenna
New Overland Mounting Bracket
Cable
Power Supply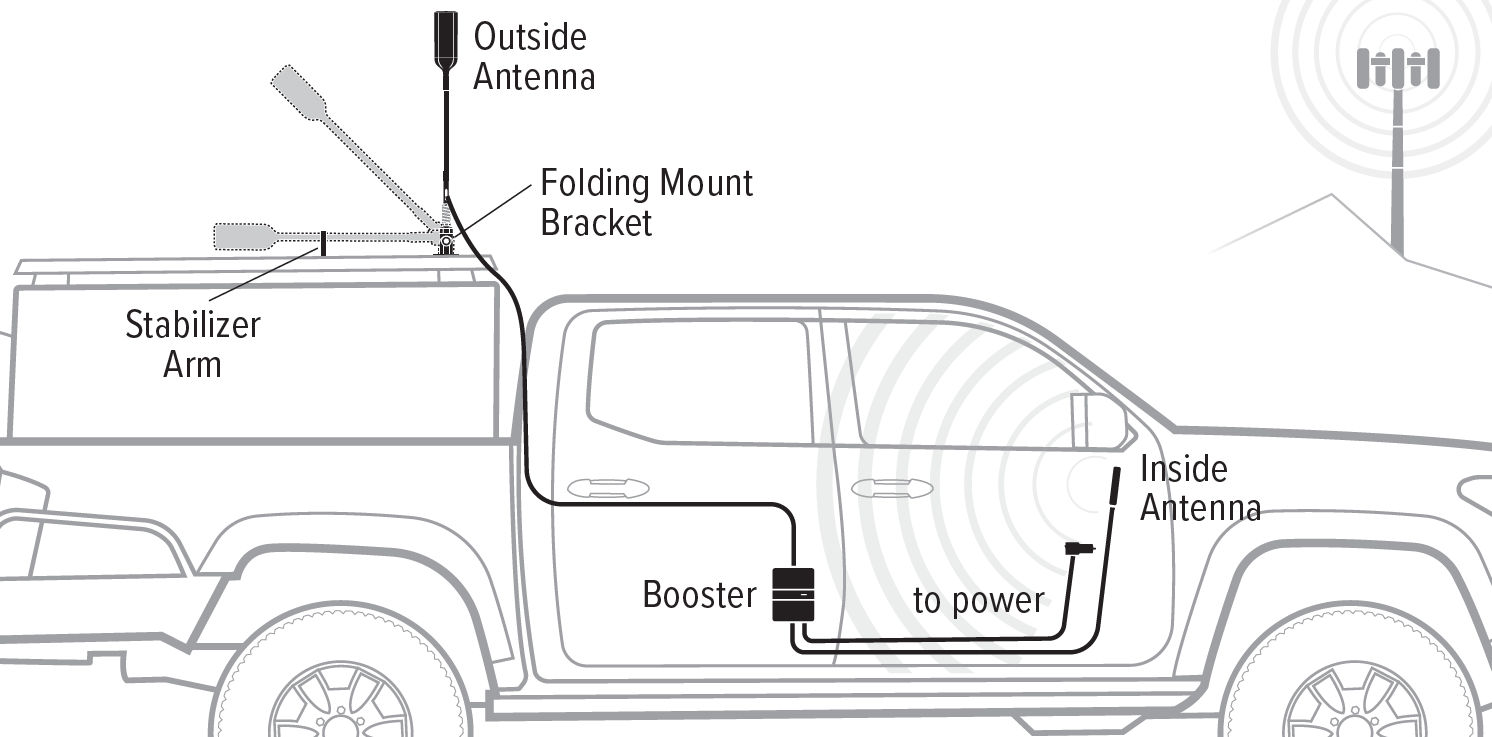 Overland Signal Booster Features
Here's why we think you'll love this product
It's the first cell signal booster engineered for overland vehicles
It instantly improves talk, text, and data fo anyone venturing off the beaten path
It works with all cellular devices on all network carriers
It comes with an expertly engineered, versatile mounting bracket that can attach to a vehicle using a T-slot, pole, or fixed mounting
It includes weBoost's most powerful and durable omnidirectional outside antenna–resistant to high-wind gusts, low tree branches, rain, dust, dirt, and more
The adjustable outside antenna can be easily collapsed for garage storage and raised for when in use
It's 5G compatible and will continue to work for the next decade
weBoost products are the only cell signal boosters designed, built, supported, and shipped from a U.S. factory
All weBoost's boosters are backed by our 2-year manufacturer's warranty
weBoost's boosters are safe to use and approved by the FCC.
All you need to do is register your new booster online by following the instructions in the free weBoost App. If you run into any problems, you can call our U.S. customer service, Monday through Friday, from 9 a.m. to 5 p.m. Mountain Time, at 1-866-294-1660. We encourage you to install, try, and review your new Drive Reach Overland, and hope you will enjoy this new product.
To Purchase or Get More Information - weBoost Drive Reach Overland 472061
Recent Posts
The New weBoost Drive Reach Overland The weBoost new Drive Reach Overland is the ideal booster fo …

Installing Your weBoost Signal Booster System Just Got Easier weBoost has released a new app to he …

Get A Signal Booster System - Installed At Your BusinessOffices . Retail Store …