Building Signal Booster FAQ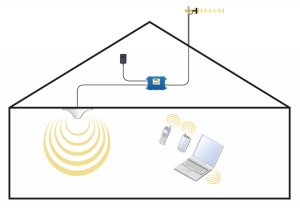 Frequently Asked Questions
What is a basic wireless amplifier system and how do I know if it will work for me?
A basic system includes an outside antenna to collect the signal from the cell tower, an amplifier to boost the cell signal, an inside antenna to broadcast the improved signal over the inside of the building or vehicle and cabling to connect the three parts together.

A wireless amplifier system will work for you if you can make a cell phone call from where ever you might put the outside antenna. If you can make a call from outside of your vehicle or from the roof of your house or building, the signal is probably strong enough for the system to help you. You can calculate the coverage distance from the inside antennas using the Received Signal Strength Level, antennas and amount of cable required. Calculate Coverage Area Information is on our web site.
What does a basic Amplifier/Repeater system cost?

The cost of a cellular booster system will depend on how large an area you wish to cover. We have complete packages available Buildings and Vehicles. We can also design a custom system for the largest buildings. Feel free to contact us, we would be happy to help.
Can I use a Direct Connection amplifier as a wireless unit by adding an inside antenna?
The Direct Connection amplifiers must be physically connected to your cell phone or cellular data card with an external antenna adapter. A Direct Connection amplifier does not produce enough gain to drive an inside antenna and give you even a small service range.
How much separation do I need between the outside and inside antennas? How much separation do I need between the amplifier and the antennas?
The amount of antenna separation required will depend on the amplifier gain, outside signal strength and the length of cable the system uses as well as any obstruction between the 2 antennas such as walls.
The amplifier does not need to be any specific distance from either the inside or outside antenna. You may, if necessary, connect the amplifier directly to either antenna. The separation between the antennas is critical, though.
Do signal booster systems need to be professionally installed?
In most cases, you can install a cellular signal booster system yourself. The mobile systems and the building systems are designed for easy installation. We think the most difficult part of system installation is running the cable from antennas to the amplifer.
Do I need an FCC license or permit to operate a signal booster system?
Cellular signal booster systems labeled "Consumer Signal Booster" can be installed by anyone. They require no license or permit to operate. Your are required to notify and register your device with your cellular service providers (ie. AT&T, Verizon, Sprint, etc). Most service providers have a way to register your system on their web sites.
Can I use an In-Building Wireless amplifier in a vehicle?
No, building signal booster systems should not used in vehicles. They are built for fixed locations. Also, in vehicles, you would probably not be able to get the required separation of 40 feet between the inside and outside antennas. That would cause the amplifier to go into oscillation (feedback) and shut itself down.
Building cellular amplifiers do not have enough gain control and that would allow the amplifier to overload cell towers as the vehicle passes the tower. We highly recommend only using signal boosters designed for moving vehicles in vehicles.
Do I need to unplug the amplifier in my amplifier system before I make a change to the system?
Yes. Unplug the amplifier from its power source any time you make a change to the system. This is especially true when an antenna is removed from the system. This prevents possible damage to the amplifier.
How many phones can I use at the same time on a wireless system?
The number of phones that can operate simultaneously on a wireless system depends on the outside signal strength and is controlled by your service providers tower. The stronger the outside signal is, the more phones an amplifier can support. Conversely, the weaker the outside signal is, the fewer phones an amplifier can support. We have never received a report of a system supporting too few phones.
Will your amplifiers work on GSM?
Yes. Wilson has amplifiers that work with all analog and digital cell phone technologies, including AMPS, CDMA, GSM, TDMA, iDEN, EDGE, 1xEV-DO, GPRS and the latest 3G HSDPA. Wilson has amplifiers specifically designed for GSM, 4G LTE, iden and others.
What is the relationship between Gain and Power Output in Powered Amplifiers?
Have you wondered why a direct-connection amplifier with 12 dB gain has 3 watts of power output, and a wireless amplifier has 40 dB gain and 3 watts of power output? Read more on the relationship between Gain and Power Output in Powered Amplifiers.