Verizon 4G UML295 Signal Boosters
Boost the cell signal to your Verizon 4G LTE UML295 by attaching a more powerful external antenna or powered cellular amplifier. Adding an external antenna to your USB Modem will improve cellular reception which will improve Internet upload and download speeds. Adding a powered signal booster will improve reception even more. Read our blog post on 4 Ways To Boost The Cell Signal To Your USB Modem.
We offer several options to boosting the cellular reception: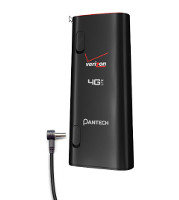 Add an External Antenna
Add a Direct Connect Signal Booster
Repeater System - Cover a room or a whole building.
Adapter Ports
The Verizon Pantech UML-295 has 2 external antenna ports located on the back. We recommend using the bottom port on back. See picture.
3G and 4G Antennas
To attach an external antenna directly to the UML295, you will need an antenna adapter (AA1143) listed below. Most of the antennas we carry cover 800MHz / 1900MHz as well as 4G 700MHz. Verify antenna specs.
AlternativeWireless.com

External Antenna Plus Adapter Kit For YourVerizon Pantech UML295 USB Modem External Antenna Kit for Verizon Pantech UML295 USB Modem (UML295 Not Included). Improve the cellular reception to and from your Verizon Pantech UML295 USB Modem. Save when you...

SKU:

AK1143PVUML295

Availability:

Out Of Stock

AlternativeWireless Antenna Adapters

Pantech UML295 external antenna adapter allows you to connect an external cellular antenna to your UML295 to improve cellular signal and boost Internet speeds. (Antenna not included) This external antenna adapter allows you to connect an external...

SKU:

AA1143

Availability:

Out Of Stock