The 1st 5G Booster From Wilson Electronics
Pro 710i – Band 71 (single band) Industrial Class Cellular Amplifier
By Boosting Cellular Signal for T-Mobile, U.S. Cellular and Other Carriers Using the Band 71 (600 MHz) Frequency, the Pro 710i Will Make the Power of 5G a Reality for Businesses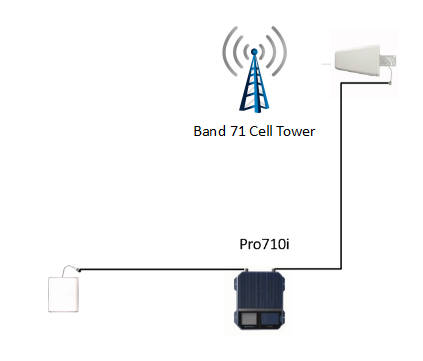 The WilsonPro Pro 710i is the first 5G signal booster from Wilson Electronics. The Pro 710i is a single-band, commercial-grade amplifier that will boost 5G T-Mobile signals in Band 71 (600 MHz). It is planned to be available for purchase by the end of 2020 or early 2021.
The Pro 710i is built for large commercial buildings. It features it's powerful indoor antenna port boasts +23 dBm of down link power and can provide up to 100,000 square feet of indoor coverage. Perfect fit for large commercial buildings looking to improve their 5G cellular signal. This includes hotels, healthcare facilities, schools, manufacturing plants, commercial and residential real estate properties and more.
What Good is 5G Outside Your Building?
5G signals will struggle to penetrate buildings, just as 4G signals struggle today. We know it's frustrating - you get a great signal outdoors but the building you are in blocks that signal from your wireless devices.
The Pro 710i makes strong, reliable 5G signal available for an entire building's tenants, employees and visitors who subscribe to carriers who utilize Band 71. This means lightning-fast download speeds and greatly reduced latency - finally making the long awaited promise of 5G a reality.
Versatile System Configurations
Stand Alone or Parallel With Existing System
The versatile Pro 710i cellular amplifier can be used as a standalone product to support the ongoing 5G roll out on Band 71 for T-Mobile, U.S. Cellular and other carriers. It can also be easily installed to run in parallel with any existing WilsonPro amplifier system without the need to replace existing amplifiers.
Industrial System
Because the Pro 710i is certified under FCC Part 20 Industrial Cellular Amplifier Rules, applicable carrier approval is required for operation. However, unlike other 5G commercial cellular amplifiers currently on the market, the Pro 710i doesn't require permission from every carrier prior to installation; instead, it only requires registration and approval by any carrier broadcasting Band 71 in that area.
Like most WilsonPro amplifiers, the Pro 710i features eXtended Dynamic Range (XDR) technology to automatically adjust to any changes in outdoor signal quality, ensuring that the amplifier will never experience signal overload or shut down. The Pro 710i also includes a 30-day money-back guarantee and a best-in-class manufacturer's warranty by WilsonPro that protects the product for three years.
To place a pre-order for the WilsonPro Pro 710i, please contact us at AlternativeWireless.com.
Pro 710i Features
Band 71 (single band) cellular signal amplifier
Certified under FCC "Industrial" amplifier rules
Intended to support ongoing 5G network carrier roll out
Approval for each installation is required by applicable, local "Band 71" carrier
Covers up to 100,000 square feet with strong outside signal
Installed in parallel with existing WilsonPro system, if desired
Sold as Amplifier and Power Supply only" – no "kit" purchase necessary.
Diagram: Pro 710i Parallel with WilsonPro Enterprise 4300 3G/4G Cellular Signal Booster System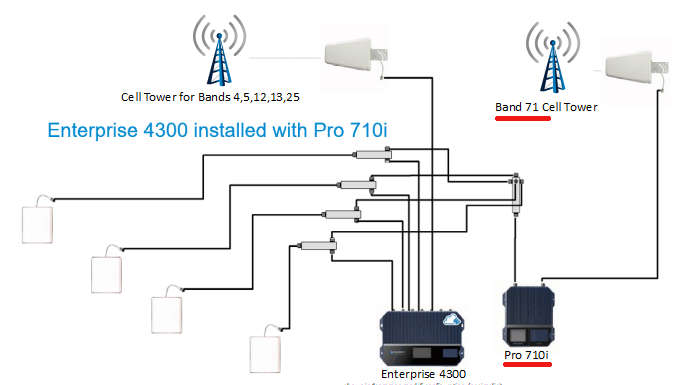 Recent Posts
The New weBoost Drive Reach Overland The weBoost new Drive Reach Overland is the ideal booster fo …

Installing Your weBoost Signal Booster System Just Got Easier weBoost has released a new app to he …

Get A Signal Booster System - Installed At Your BusinessOffices . Retail Store …