5 Band 4G Signal Booster – Voice, 3G & 4G Data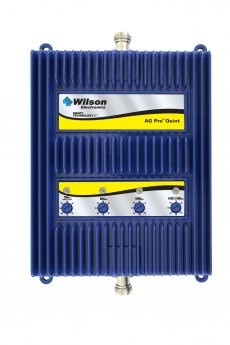 Ahhh the good old days when you only had to be concerned with 1 cellular frequency and you usually only had 2 cellular service providers in your area. Sure it cost a bunch more and service wasn't as reliable and phone connections were not real good in some area but, you only had 1 frequency to deal with.
Enter the new age of more competition and faster data speed. On the good side, service is better and more reliable (sometimes) and it cost far less. You can also do much more on your mobile device than just talk. All great but now we need 4G Signal Boosters to cover older frequencies and newer 4G frequencies.
For years we had 1 frequency, then for more years we only had 2. Now we have many depending on where you are located. To boost cellular service these days is a bit trickier. With 4G mobile broadband, we bring many new frequencies.
Wilson Electronics has just come out with the new WilsonPro 70 - Replaces AG Pro-Quint in-building 4G signal booster (803670). This is a 5-band booster that provides universal signal improvement. It includes 4G improvement for faster data speeds in areas where the 4G signal is weak. It benefits subscribers of most U.S. carriers' networks (except Clearwire). With 75 dB gain, the AG Pro-Quint can provides reliable voice and 4G data coverage inside today's energy efficient – but cellular unfriendly – homes, offices and larger commercial spaces.
The AG Pro Quint 4G signal booster features simple-to-use controls. They allow quick and easy customization of the gain level on each band. This simplifies installation and provides an installer with greater flexibility in the placement of inside and outside antennas.
The Pro Quint 4G Signal Booster is the only universal 5-band cellular signal booster on the market today that features automatic gain adjustment on each band to prevent signal overload from a nearby cell site.
AWARDS!
The Wilson AG Pro Quint is a Best New Product finalist in the 2013 CEDIA Manufacturers' Excellence Awards.
NEED MORE INFO?
To purchase or get more information, feel free to contact us. We will be happy to help you use the this signal booster or any other to boost the cellular signal in your building.
Recent Posts
5G Network Information We receive many questions on 5G concerning what it is and how it affects fu …

Signal Boosters For Metal Buildings Metal buildings offer a challenge for cellular signals. Stee …

Signal Boosters & Hotspots More and more of our customers are on the go. They need a Hots …