weBoost Unveils First Plug-and-Play Booster - 'eqo'
At CES this week, weBoost is introducing their new weBoost eqo cellular signal booster system.
The eqo is an excellent option for:
Small Homes & Offices
Buildings Where You Cannot Mount an Outside Antenna
Need the Easiest Install Booster System Option
Need To Cover Up To 1200 SQ FT
The weBoost eqo (/'ekō/) booster is a new type of product that offers an easy-installation design for boosting up to 32x stronger signal into the home in seconds.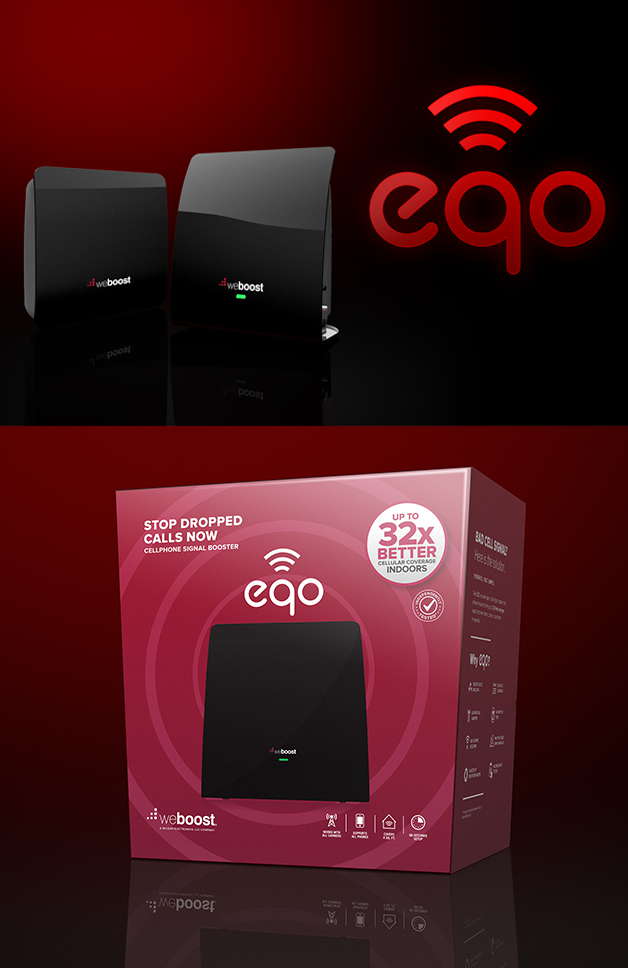 POWERFUL, FAST & SIMPLE.
Dropped calls and slow data caused by three things:
Distance from a cell tower
Building materials in your home or office, or
Obstruction from objects such as trees, topography, and buildings.
The eqo is a new type of cell signal booster that allows anyone to bring up to 32 times stronger signal into their home, condo or apartment in seconds.
No Exterior Antenna Required
The eqo is engineered from the ground up for simplicity, performance and style.
One of the biggest challenges of building signal booster systems is the installation of an external antenna. Adding to the complexity is running cable from the outdoor antenna to the amplifier located indoors.
The new eqo is weBoost's first plug-and-play booster. The eqo does not require an exterior antenna, making it particularly suited to the demands of today's consumer and small business user.
The eqo Booster System has an easy-install design that can have you boosting signals in less than a minute. The eqo supports all carrier networks and can provide signal coverage for up to 1,200 sq ft.
Features
Boosts Voice & Data
Covers 3G, 4G, LTE
No Internet Service Required
Supports Multiple Users Simultaneously
Supports All US Service Providers
No Monthly Fees
Trusted By First Responders
Independently Tested
Cellular Providers Covered
AT&T Wireless
T-Mobile
Verizon
Sprint
US Cellular
How It Works
RECEIVES SIGNAL

The system's amplifier sits conveniently in a window pointing towards your nearest service provider's tower.

The booster reaches out to the cell tower to access voice and data signals.

AMPLIFIES CELL SIGNAL

The booster receives the signal, amplifies it 32x, and sends it to the inside antenna connected to the amplifier.

EXPANDS SIGNAL

The inside antenna broadcasts the boosted signal to devices in the home.
Video
Availability
The weBoost eqo should be available in March of 2016 and sell for $349.99.
Feel free to contact us at AlternativeWireless.com for more weBoost eqo information or to preorder one today.
Recent Posts
Signal Boosters For Metal Buildings Metal buildings offer a challenge for cellular signals. Steel …

Signal Boosters & Hotspots More and more of our customers are on the go. They need a Hotspo …

A Basic Description Of dB and dBM You have probably heard and read the terms dB and dBm a …