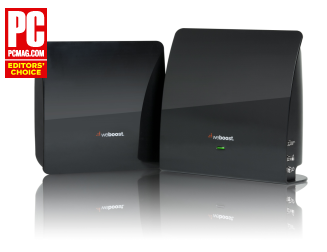 The eqo is weBoost's newest home cellular signal booster system. It is also the easiest to install. It requires installing no antenna outside - all installation is done in the comfort of your home. The weBoost eqo and makes improving the cell phone signal in small areas a breeze.
The weBoost eqo has earned the "Editors's Choice" by PCMag
"The Eqo is relatively simple for anyone to set up, and offered impressive connectivity gains in testing. It also supports every major carrier without monthly fees or the need for an external antenna. That makes it worthy of our Editors' Choice."
"After installing the Eqo, signal strength on all three devices improved dramatically. The Nexus 5X and 6s Plus reported signal strength ranging from -95dB to -97dB. Not only that, in the area where I previously had no connectivity at all, I saw a high of 10Mbps download and 0.3Mbps upload speeds. Both devices became usable in the living room, and I was able to make calls and use data without having to rely on Wi-Fi.
I saw even more impressive improvement on the Galaxy S5 on Verizon. Signal strength ranged from -84dB to -91dB, which made for significantly improved download and upload speeds. The S5 hit a high of 30Mbps down and 10Mbps up. I was able to make calls, browse the web, and even download apps without Wi-Fi."
Recent Posts
weBoost Installed | Home Complete Cell Signal BoosterThe weBoost Installed | Home Complete cell …

The weBoost Home Complete has been named a gold winner in the Applied Technology category and Net …

Our highest priority is to do our part to help ensure the health and safety of our employees, c …